I read an article in the New York Times. "Linda Evangelista's British Vogue cover presents an antiquated vision of fashion." That caught my eye. Linda Evangelista seemed like the "it" girl in the 90's. Kenar, who was my biggest supplier during that time, was very proud of the fact that Linda Evangelista was their model…a big feather in their cap.
The article talked about how a CoolSculpting procedure left her disfigured.  At 57, to do the cover of British Vogue, the stylists did all sorts of things to make her look perfect.
This brings me to my point. What is perfect?
In 2022, are we still falling for it? Skin with no wrinkles, flat stomachs, long thin arms and legs, and firm buttocks and breasts.  You get the picture, right?
The world is slowly changing, but it is evolutionary, not revolutionary. Slowly and hopefully surely, we are beginning to honor beauty in many forms. For example, businesses like Athleta show full figures in plenty of their ads.
This morning, I was scrolling photos of full-figured women for this article. Perhaps I spent an hour doing that. Something interesting happened. I googled full figured fashion and after an hour of looking at some great looks, a photo of a thin woman popped up.
Guess what! She looked a little scrawny to me. What does that say? I think it says we get used to looking at something, and poof, it gets normalized.
The fashion and beauty industry has told us what is beautiful.  It was in all of the magazines we read, on TV, on billboards, on everything.
Green nail polish used to look outrageous. Now? It's mainstream, and it isn't weird.  How did that happen?
I am enjoying the process of looking to different body shapes for different pictures of beauty. If you have "meat on your bones", there are so many ways to look beautiful. The days of dowdy, tent-like clothes for you are over.
Let's look.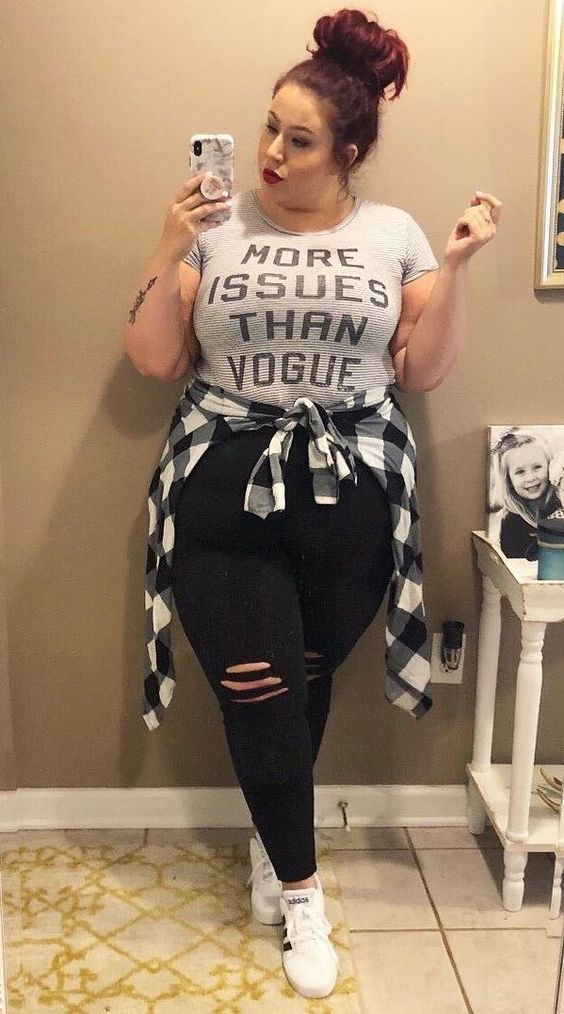 I Picked this photo for a couple of reasons. First, I thought it was a coincidence that the Vogue article started this whole idea for my article. Her tee shirt and jeans are tight, showing her curves. Breaking the look up with a shirt tied around her waist brings your eye in…a win in my eyes.
Floating and soft looks good on everyone. Some styles are better for you than others. I can help you with that. This top/dress pulls nowhere, the fabric is fun, and she looks like she is comfortable and elegant.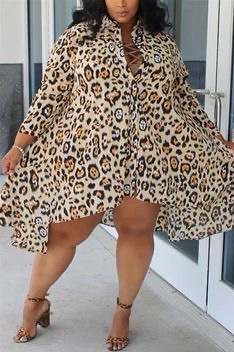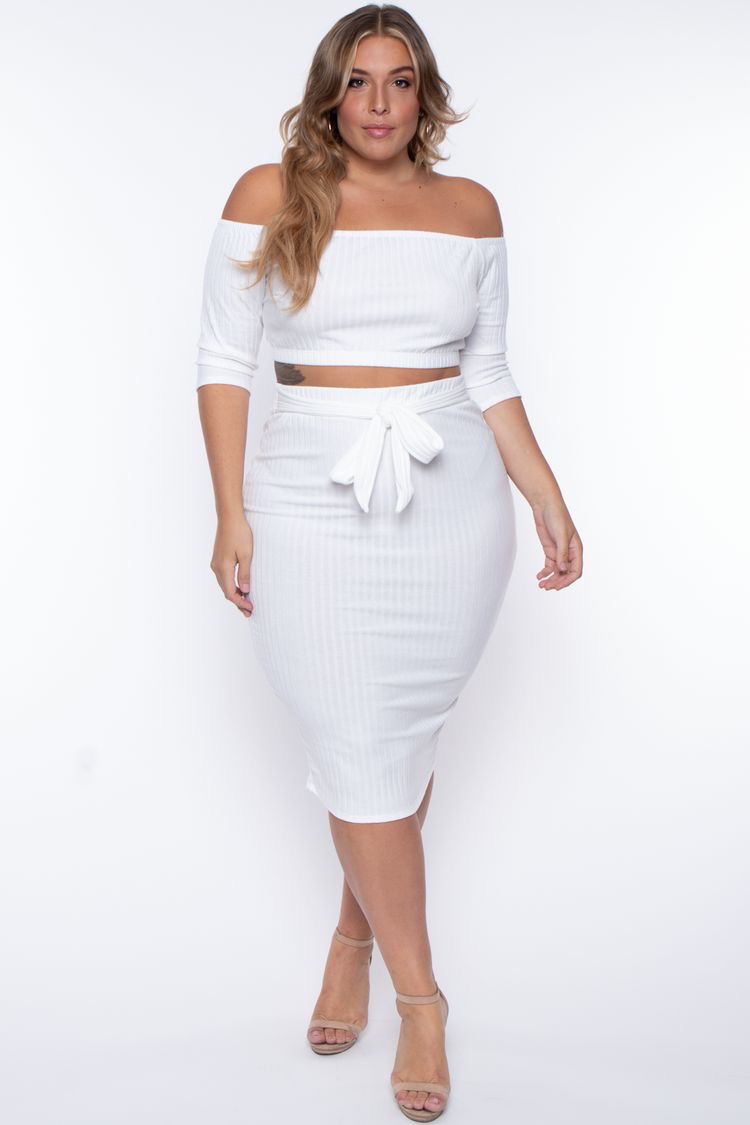 Didn't we always learn to wear black? It makes you look thinner?  Maybe so. I loved this look. I thought she was beautiful and sexy and the bow at her stomach gives the eye something to focus on other than a body bulge.
A knotted or twisted fabric accentuates her great bustline and softly floats over her stomach. Floats…second time I've used that word. It works. Soft floaty fabrics work too.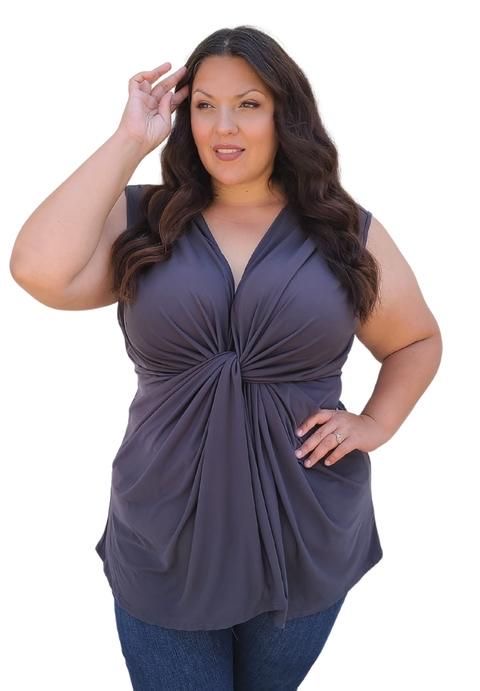 I am going to leave you with a few more looks.  There are many more options. If you would like to explore them for yourself, I am here to help you.
If you wanted to see the article from the New York times, here is the link.