When you are invited to a black-tie event and "dressy" is not your go to, try not to spend a fortune on a dress or outfit you might wear once. It is a shame to feel buyer's remorse. 
I made a video for you to see what you can do with sequins pieces after the event.  If you look at the video and think, "Yeah, that's fine, but I am not sure what I'd like to do to dress this up, I still need to look great for my event." I've got you.
I'll give you a couple of examples here.  A sequin jacket can dress up a simple black dress, or a pair of satin palazzo pants.  My palazzo pants are not satin, but that are dressy.  Note that I dressed them down with a cozy sweater and boots.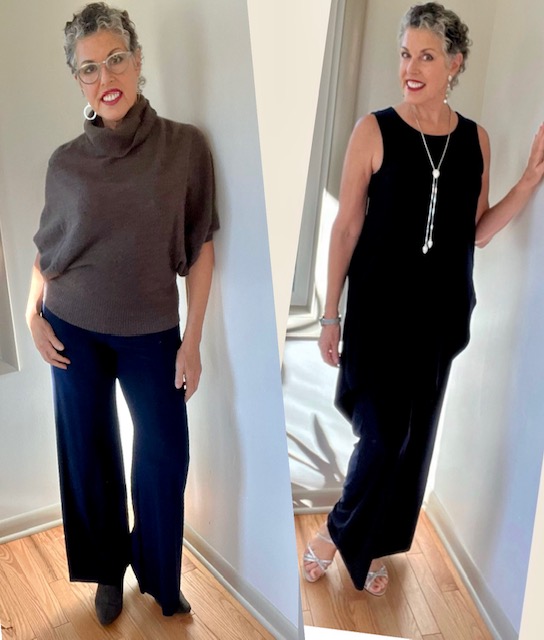 I have a simple, year-round, knit black dress. I have thrown a multitude of casual tops over the dress to give me a casual look. I wear it with casual sandals, and dressy pumps. I have thrown a sheer, crème lace jacket and pearls with it. I have worn a V-neck sweater over it…that makes it look like a skirt and top. For your dressy event?  That would be the time to do a dressy jacket and dressy accessories with the black dress. You will see the jacket in my video.
And…as for satin palazzo pants? They can be paired with boots and a simple sweater.  Why not go out for dinner being the best dressed in the restaurant?
And now…the video.  If you have any questions, reach out. We can do a session together. 
Recent Wardrobe Studio Posts
Click a post to see or read more.